MirroFlex™ Tub and Shower Walls must be acclimatized for 24 hours before installation!
PLEASE READ ALL INSTRUCTIONS PRIOR TO INSTALLATION:
The guidelines provided herein have been established in good faith to help prevent installation problems. Failure to comply with the following instructions, as well as, the adhesive manufacturers' instructions, may result in significant installation problems.
INSPECTION:
Please inspect MirroFlex Tub and Shower Walls for any imperfections prior to installing; once installed, panels may be very difficult to remove. Upon opening your package, unroll the panels and lay them flat in the environment in which they will be installed for at least 24 hours prior to installation (Fig. 1).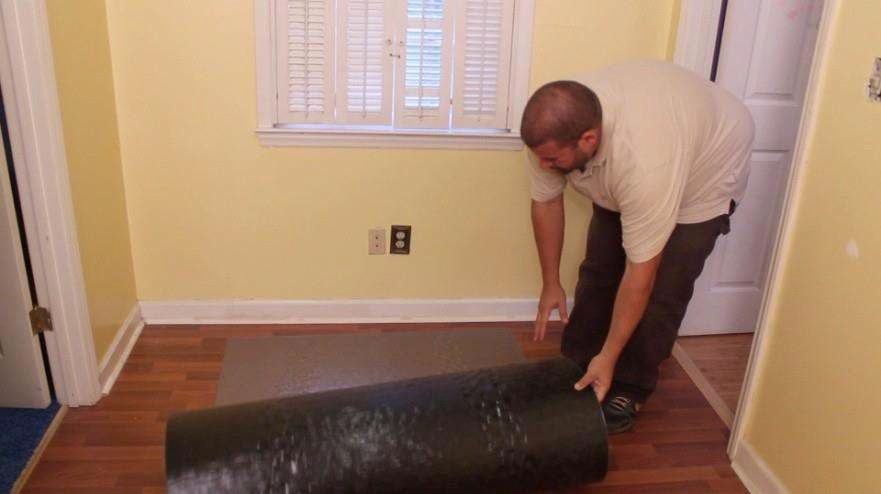 Figure 1
TOOLS & MATERIALS REQUIRED:
Razor knife, Scissors
Tape measure
J-roller
Hole saw
Trowel
Level
MirroFlex™ Tub and Shower Walls
Adhesive – see adhesive chart
Silicone Sealant
Soap, Water, & Damp Cloth for Panel Clean-Up
Mineral Spirits to Remove Excess Adhesive or silicone Sealant
Painter's tape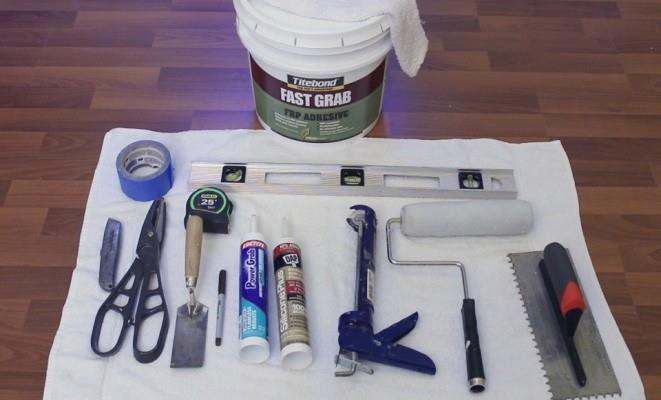 CUTTING/FABRICATING:
MirroFlex Tub and Shower Walls can easily be cut to size with a razor knife or scissors.
Note: when fabricating MirroFlex, always cut from the decorated side.
ADHESIVE:
Various adhesives can be used for adhering MirroFlex Tub and Shower Walls to a wall. FRP type trowel-on adhesives are recommended. The following is meant as a guideline for adhesives:
| | |
| --- | --- |
| ADHESIVE ITEM | SHEETROCK |
| Loctite Poly Premium | Acceptable |
| DAP Weldwood FRP | Very Good |
| Loctite PL Premium (Henkel Brand) | Very Good |
| Loctite PL Premium Advance (Henkel Brand) | Excellent |
| Loctite Power Grab | Excellent |
| Titebond Fast Grab FRP Adhesive | Excellent |
PREPARATION:
Disconnect existing fixtures and make necessary repairs to Before starting the installation, surface must be dry, smooth, and free from dust, grease, wax, and other particles.
Measure shower space depth at top and bottom to determine your trim cuts to the side panels if The flat edge is the bottom of the panel. The side panels (2) have folding corners to eliminate water intrusion. Pre-bend the side panels at the folding corners to a 90 degree corner. Fold the corners towards the decorated side (Fig. 3). Be careful to measure the depth of the side panel from the folded corner of the panel (Fig. 4).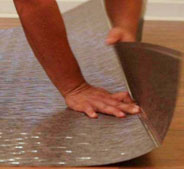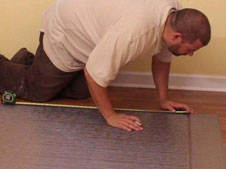 Figure 3 Figure 4
Place side panel in place, verify fit, and adhere temporarily with painter's tape.

Measure from corner to center of plumbing fixtures (Fig. 5) and measure from top of tub to center of plumbing Transfer measurements to side panel for making holes with a hole saw (Fig. 6). Be careful to select the correct side panel

–

they are not interchangeable.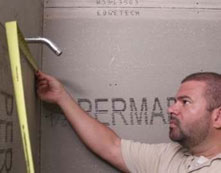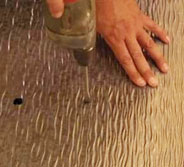 Cut holes from the decorated Panels may be placed on wood so hole saw can cut completely through panel. Make sure holes are smaller than fixture cover plates so that they are not exposed and

a water tight seal can be made.

Place side panels in shower and adhere temporarily with painter's tape. Add back panel and adhere temporarily with painter's tape. Verify fit of all three panels, and make adjustments if necessary. If the panels go to the ceiling, cut to proper Molding might be required to make a good transition from wall to ceiling.
There is a 1 ½" flat on each side panel for overlap with the back panel. This is designed to allow up to a 2" adjustment on the back of the tub. It should be noted that if this flat is used as a length adjustment, there will be a flat area visible between the panels equal to the adjustment. (Diagram A)
Flat Flat
(for adjustment) (for adjustment)
| | | | | |
| --- | --- | --- | --- | --- |
| | 1.5" | | 1.5" | |
| LEFT SIDE PANEL | Flat hidden | BACK PANEL | Flat hidden | RIGHT SIDE PANEL |
Ex: no adjustment
Adjusted 1" Adjusted 1"
| | | | | | | |
| --- | --- | --- | --- | --- | --- | --- |
| | 1" | .5" | | .5" | 1" | |
| LEFT SIDE PANEL | Flat showing | | BACK PANEL | | Flat showing | RIGHT SIDE PANEL |
Ex: 2" adjustment
DIAGRAM A
Once properly fitted, draw a pencil line at the top of all three panels to mark their top Remove tape and panels.
INSTALLATION:
Place painter's tape at pencil line to protect wall from excessive adhesive. Bottom edge of tape should align with pencil line.

Apply adhesive to either side wall per adhesive instructions (Fig. 7).

Place side panel in place, making sure it is Place flat edge of panel to the bottom. Also place folding corner of panel firmly into the corner of your shower space. For extra adhesion strength, apply a generous amount of Loctite Power Grab Ultimate (or comparable) to 6 inches of the back wall where the side panel wraps (Fig. 8). Smooth out any trapped air in the center of the panel to the edges using a J-roller or heavy rag (Fig. 9).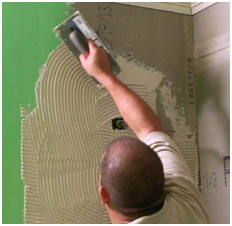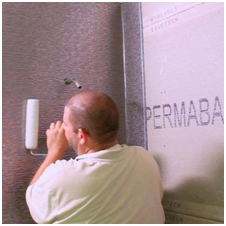 Figure 7 Figure 8 Figure 9
Verify openings in panel for plumbing match the plumbing in the shower space.

Allow adhesive to set up per manufacturer's recommendations.
Repeat process for other side panel.

Apply adhesive to back wall per adhesive

instructions.

Apply back wall panel, making sure to align the pattern on both The back panel will overlap the folded portion of the two side panels.

Smooth out any trapped air in the center of the back panel to the edges using a J-roller or heavy rag. Clean up excess adhesive with warm soapy water. DO NOT use solvent based cleaners on MirroFlex product.

If panels have slight movement, masking tape or painter's tape can be used to hold panels in place until

adhesive dries.
INSTALLATION – FINISHING:
Add finishing trim to panels before panel adhesive dries.

Cut finishing trim to size if necessary.

It is recommended that you apply a bead of silicone to the inside of the trim to provide a water tight seal (Fig. 10). Then, apply a bead of adhesive to back of trim to apply to wall (Fig. 11). Attach finishing trim to edge of side panels.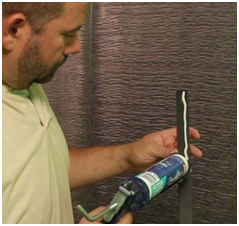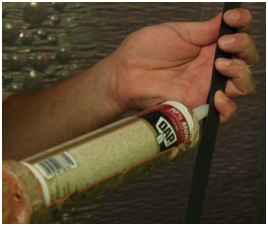 Figure 10 Figure 11
Seal the overlapping seams on the back wall by applying a heavy bead of silicone on the flat of the side panel's folded corner and the raised design of the back panel by lifting the edge of the back panel and

inserting silicone to create a water barrior (Fig. 12).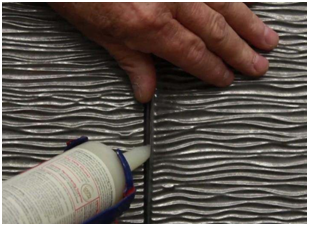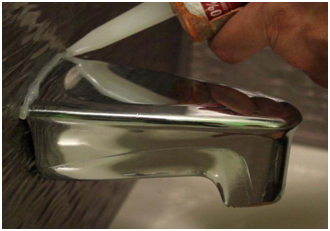 Figure 12 Figure 13
Re-attach shower's plumbing and Apply silicone to all hardware edges to assure no water intrudes behind MirroFlex™ panels (Fig. 13).

Apply bead of silicone where the panels meet the

tub.

Clean up using warm soapy Never use abrasive cleaners.
Conditions & Warranty
Advanced Technology, Inc. believes all information contained herein to be correct. It is the responsibility of the fabricator/customer to completely test the adhesives and methods of fabrication to ensure that the results are satisfactory. ATI is not responsible for any fabrication or ancillary costs involved with using MirroFlex products.
All shipments are to be inspected within 10 working days after delivery. We are to be informed in writing of any potential adjustment necessary. The seller's only obligation will be to replace defective sheets on a one to one basis. Neither the manufacturer nor the seller shall be liable for any additional damage or loss, directly or indirectly, arising as a result of using MirroFlex products.
Slight imperfections and color variations from sheet to sheet are possible and considered normal. Please inspect each sheet carefully before fabrication to ensure it meets your needs.